Stories
We're here for good: Noho is a certified B-Corporation
At Noho, we believe our furniture should fit with our values as well as our lifestyle. That's why we're proud to share that we have recently become a B Corp certified company, and joined a global community of over 4,000 like-minded businesses (such as Patagonia & Allbirds) playing our part to build a more inclusive and sustainable economy.
This certification means that we meet the highest standards of social and environmental performance, transparency, and accountability. With a score of 104.6 our B Corp journey is off to a great start but we're not sitting still and are already working on initiatives to continue to improve and grow as a B Corp.


What we're doing:
Purpose beyond profit: We're committed to creating furniture that's fundamentally better for people and our planet as we are to our financial well-being.
Designing human-centric products that add value to our lives and are built to last.
Using waste-stream materials to produce our products in a better way.
Manufacturing our products in New Zealand allows us to power production with 82% renewable energy.
All our packaging materials are 100% recyclable. We use plain cardboard, tissue paper, compostable corn-starch bags, and environmental printing inks.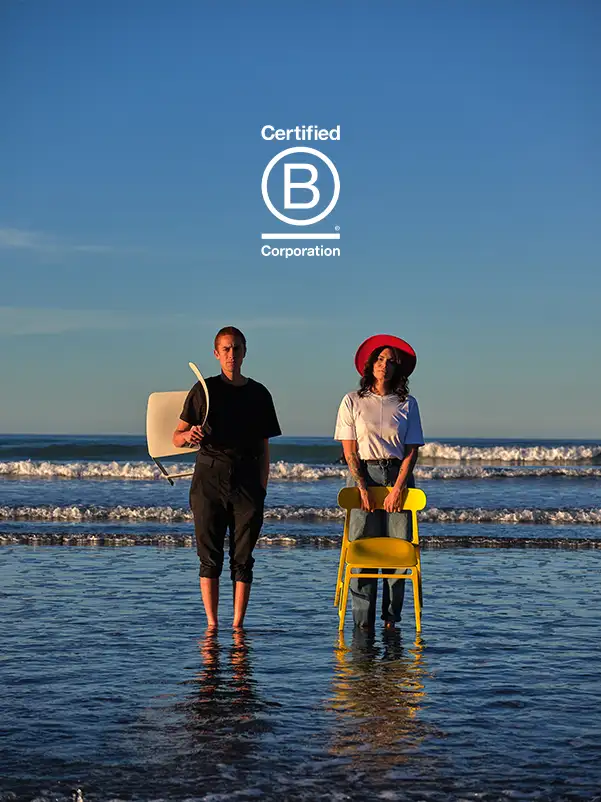 A bit about B Corp:
There are over 4,250 Certified B Corporations across 60 countries around the world
B Corps are leaders of a global movement of people using business as a force for good
The certification process uses credible, comprehensive, transparent, and independent standards of social and environmental performance.
The B Corp assessment process measures a company's performance in five categories: governance, workers, customers, community, and the environment.
See our B Impact Report here.
For more information on B Corp certifications, head over to their website.